Repeater Info - 147.260+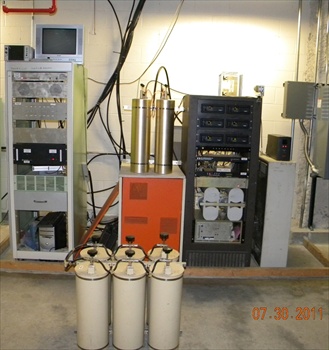 Primary
147.260+
(100hz pl) - Flint City Receier only
(88.5hz pl) - Remote Receivers and voter system (hand helds)
Callsign: KC8KGZ

Transmitter: Motorola MSR2000
Voter: Motorola Voter Donated by W8FSM
Antenna: TeleWave 4-bay folded Dipole @ 190 ft
Tx/Rx Cans: 4-cavity BP/BR Tx/RX
Linked to:
224.480-
CallUp information:
DTMF Sequence: 1-4-9
QC-II: 349 / 600

Repeater Info - 147.100+
Backup
147.100+ (100hz) (Flint Twp)
Transmitter: Motorolda SyntorX Reciever/Transmitter Cavity: 6-Cavity Phelps-Dodge
Antenna: Hustler G7
Callsign: KC8KGZ
Misc: Frequency Agile Remote bases on 2m and 70cm

Repeater Info - 224.480-
224.480- (100hz pl) (Flint City)

Callsign: KC8GZ
Transmitter: HamTronics REP-200
Cavity: 4-Cavity Waycom
Antenna: Diamond 3200 TriBand @ 190ft The 224.480 repeater is owned by N8IES, and sponsored by N8IES & MSCG Inc.
Repeater Info - 444.650+
444.650+ (100hz pl) - Millington
Callsign: KC8KGZ
Transmitter: Bridgecom UHF & Continous Duty Henry Repeater Amplifier
Cavity: 6 Cavity CellWave Duplexer Antenna: Diamond X50 antenna @ 300 ft

Repeater Info - MSCG ATV-
ATV Repeater - Flint
Output
1253.250 AM Vertical
Callsign: KC8KGZ

Input
439.250 AM Horizontal
Cable Channel 60

Repeater Status Information
Update: 02-29-2012 - The ATV Repeater is back at McLaren and operating VERY well. Many thanks to all of the hard work of Al WB8YOB, Clay KF8UI, and Dale KC8ZXF in getting the ATV Repeater back on the air.
Update: 02-27-2012 - The Millington Remote Receiver has been taken offline. At that height and power, it could not be coordinated legally due to Line A. We have instead put the 440.650+ (100hz) Repeater back online at that location.
Update: 02-12-2012 - All of the ATV equipment is operational and waiting for us to get time to get it back to the rooftop.
We have secured an antenna for the 220.480 repeater. As soon as the snow clears from the rooftop, it will be back up.
Update: The ATV repeater PC powersupply failed. It has been replaced, but windows XP is corrupt. once it's it is repaired it will be reinstalled. The ATV Exciter has been repaired as well.
- Thanks AL!
UPDATE: 11/28/11 the ATV Repeater computer that provides the I.D image has suffered a CPU Fan Failure, the extent of the damage is currently unknown. The ATV repeater was shut off due to the Exciter being removed, it is currently unknown why the exciter is failing to produce enough drive for the amplifier. Stay tuned for updates.
the .26 DVR has been reprogrammed and is operating well.
We have removed the DVR Module from the .100 machine and put it into the .26.
We are having problems with the ATV repeater, however we have not had time to fully diagnose the problem. As soon as we know what it is, we will let you know.